5 Grab-and-Go Protein-Filled Breakfasts
to Save You on Busy Mornings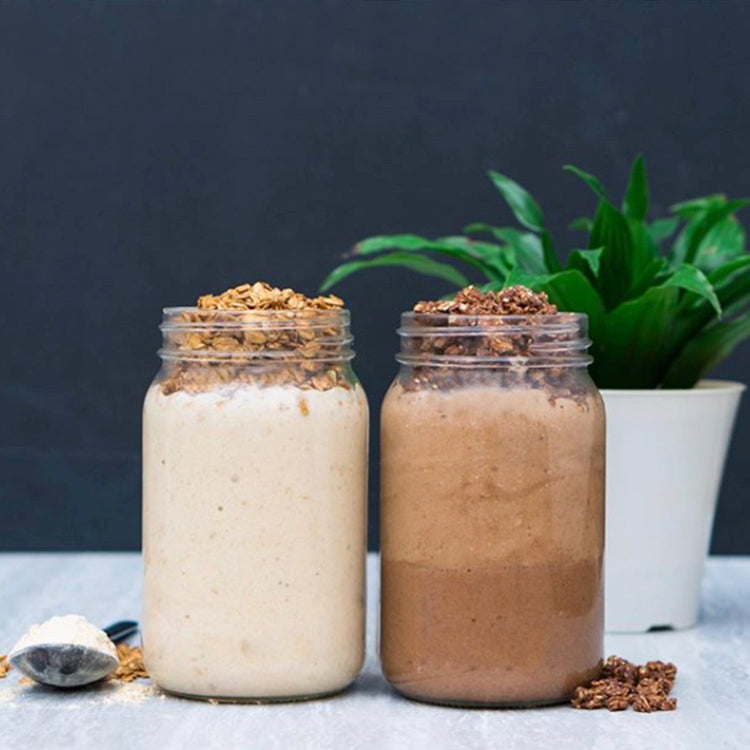 Believe it or not, grab-and-go breakfasts can be healthy and nutrient dense, too!
As the saying goes, breakfast is the most important meal of the day. While this has been proven to be not entirely true — eating whole and nutritious foods, in general, is what counts the most — it's important to make the most out of every meal, including breakfast. 
A great way to make breakfast even more bountiful is by adding an extra protein kick to whatever you're eating, from meal-prepped muffins on your way out the door to a jar of overnight oats at your desk while catching up on emails. Some benefits of a high-protein breakfast include:
Stay full longer

— protein may help block the number of hunger hormones that reach your brain, which means less unnecessary snacking. 

Promote muscle development

—

protein is arguably the most essential component of developing and maintaining lean muscle. That said, muscle maintenance is not at it's best when we're not getting a steady stream of protein throughout the day.

Balance blood sugar

— If the first thing you eat in a day is a refined carb (think donuts and other low-protein breakfast pastries), there's a good chance your blood sugar is going to spike — which can stress the pancreas (and increase risk of type-2 diabetes) in addition to leaving you feeling sluggish. Higher protein foods, on the other hand, will

minimally increase blood glucose levels

, setting your energy levels and blood sugar up for a day of smooth sailing. 
So, yeah, you could say a protein-rich breakfast is pretty important for overall health. A great way to boost the protein count of your go-to breakfasts is by adding a scoop or two of protein powder. Below, check out our list of 5 grab-and-go breakfast options that you can easily add protein powder to. Bonus: All of these recipes are vegan or can easily be made vegan, to pair with your preferred plant-based protein powder (like LivWell!). 
1. MUFFINS
Name a better grab-and-go breakfast than muffins — we'll wait. They're super easy to eat on the go or pack in your work bag. The best part? You can easily pimp them with some extra protein. Call on this recipe from the oh-so trustworthy Bob's Red Mill for a high-protein vegan muffin the next time you're in a baking sort of mood.
2. PROATS
You may be thinking I thought oatmeal had enough protein on it's own?, but the truth is most servings of oatmeal only clock in at around six grams. A quick and easy way to amp up the protein in your bowl of oats is by adding a scoop of protein powder to your go-to oatmeal recipe, like this fabulous apple-y iteration from Minimalist Baker. However, if you're really crunched on time in the mornings, you can take the grab-and-go idea a step further with some overnight protein oats which require combining all of the ingredients before bed and grabbing the container on your way out the door. Eating Bird Food has a great protein overnight oats recipe to follow as a framework.  
3. CHIA SEED PUDDING 
In case you've been sleeping under a rock for the past five years, let us introduce you to chia seed pudding — it's a great breakfast and healthy anytime snack that is SO simple to make (even if you add some extra protein into the mix). Simply Quinoa has your back with a vanilla-y, protein-y chia seed pudding to keep in your fridge for breakfast (or a snack!) all week long. 
4. COOKIES 
Breakfast cookies fortified with a little extra protein are another grab-and-go gem. Like muffins, breakfast cookies are easily meal-prepped, insanely commute-friendly and downright delicious (who doesn't love an excuse to eat a cookie?). Add a couple scoops of protein powder to Chocolate Covered Katie's vegan breakfast cookie recipe for a healthy and easy, protein-rich breakfast. 
5. SMOOTHIES 
The most obvious of the easiest breakfasts to add protein to, smoothies are a great way to score some morning protein while getting a few servings of fruits and veggies, while you're at it. Since everyone has a slightly different preferred smoothie flavor profile, you can pull tons of inspiration from LivWell. Into carrot cake? Here's the smoothie for you. More of a chocolate type of person? You're covered here. Want to enjoy a well-rounded smoothie bowl? Check this recipe out. 
And if you have a little extra time on your hands, perhaps on a weekend morning, give this easy pancake recipe — tricked out with protein — a try. 
If you're sold on the benefits of plant-based protein we'd, of course, love if you consider checking out LivWell's lineup of spectacular organic plant-based protein powders which, BTW, are free from soy, gluten, GMOs and dairy. Shop our protein collection here.